Look on Up from the Bottom
When in Peter Bogdanovich's Targets Bobby Thompson (Tim O'Kelley) jumps in his car after another one of his gun shopping sprees, he turns on the radio and the over excited voices of the dee-jays take over the soundtrack. Bobby is speeding down the highway in his convertible while The Real Don Steele Show passes the airwaves on to the Kip Larkin Show on 93/KHJ on Boss Radio. The Real Don Steele is also a big part of the sonic and musical tapestry of Once Upon a Time in Hollywood. Obviously, it is not a coincidence. According to Marshall McLuhan, radio is a hot medium and this is exactly the way it is used both in both Targets and Once Upon a Time in Hollywood, Quentin Tarantino's much discussed and debated ninth opus.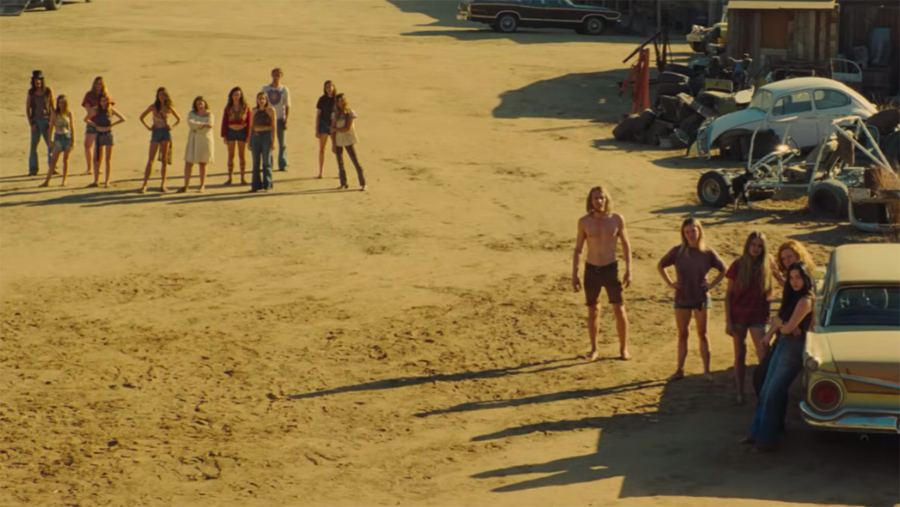 The radio is the element that shrouds the film's aura and declares it a "reverie", not unlike Jacques Demy's dreamy Model Shop, another key film in order to understand Tarantino's strategies. Also, another film where driving, music and radio play a key role in order to set the mood.
In conversation with Kim Morgan1 the director explains in extremely precise terms what it is that the radio does in his film. "I want the movie to be extremely realistic, but the "Once Upon a Time…" suggests that it's taking place in a vaguely alternative universe. Not that I wanna make a big deal about that, but it is. And I think, when you think, "Once Upon a Time," that is part of the implication. So, I didn't want to do anything super big – but I wanted to have little tiny touches, of, "Oh, OK, if you're hip enough, you got it." And one of the things that I thought would be kind of cool is …one of my absolutely favourite imaginary bands is The Carrie Nations from Russ Meyer's Beyond the Valley of the Dolls. And so, I thought it would be kind of cool at some point that they're driving around and "Look on Up from the Bottom" plays, and the announcer says, "OK, that's the Carrie Nations, those girls are just tearing it up!" And so, if you're hip enough to catch it, you're thinking, the Carrie Nations weren't a real band, so ultimately this isn't real… If this exists in a universe where the Carrie Nations are real; the Partridge Family are real…"
And that's exactly the point. This film is a uchronia. It's hyper detailed time schedule, works as an imaginary map - and chronicle - to a land of unseen possibilities. The film is a field of equiprobable possibilities. Meaning: everything goes. Or almost. Quentin Tarantino is the demiurge of this world we call Hollywood. A world so unlike any other that we still call it - for lack of better names - …Hollywood.
The radio - a hot media medium - conjures up an fully fleshed world that Tarantino substantiates with his infinite knowledge not only of the cinema, the films and the movies that he so passionately loves, but also with all the minutiae and trivia his encyclopaedic understanding manages to elaborate and transform in a completely new Weltanschauung. Because - as always with Tarantino - gaze matters.
To represent the film and simplify its complex motives into a plaintive ode to a world long gone (and thus surreptitiously bringing to the fore the alleged regressive and conservative subtext "Make Hollywood great again!") is - to say the least - unfair and misses completely the point.
Tarantino manages to create an extremely elaborate visual and sensorial experience. The sound and the image flow ceaselessly into one another in an extraordinary smooth way (the radio being one of the elements that keeps everything together but also the soundstages and the sets: all time capsules that allow access to different layers of space and time). In a way, and it does seem too farfetched, Once Upon a Time in Hollywood is the closest American cinema has come to recreate the structural multi-layered quality of Nashville.
The polyphonic mosaic of Tarantino's film captures a crucial moment in the history of the film industry. Where Altman's sardonic deadpan is constantly in display through his formal and visual ideas (zoom, editing and so on) Tarantino seems almost to be trying to cancel every trace of his being behind the camera. As if deliberately trying to achieve that invisibility that was the most important mark of classic Hollywood. This is not a film made from cinematic bursts but relies on an extremely refined and detailed homogeneous tone where dream and reality are constantly intertwined.
Obviously, Tarantino's chutzpah comes in spades, as usual, but in completely different ways and form. Every element of film is an elegy to the ever-moving cogs of time. The two main protagonists are unflappable unaware of what is going on around them. They are almost a Sancho Panza – Don Quijote team or a Rosencrantz and Guildenstern duo. History passes them by, but they do not realize it. They are focused on keeping their jobs afloat ("Don't cry in front of Mexicans") and are not able to read the writing on the wall thus achieving an ironic antiheroic status. They stay alive while everything else around them is vanishing. They don't understand what and how it is changing (… the constant alcoholic stupor clouding Di Caprio's character perception or Brad Pitt's flashbacks that become a crucial part of the tapestry Tarantino waves…). They are fully immersed in a world only understandable through cinematic references (thus Di Caprio insulting Tex Watson calling him… Dennis Hopper). But that is not Tarantino's world. Tarantino is commenting on it and paying tribute to a specific type of American anthropology and culture.
Tarantino is not a naïve cinephile. He knows exactly what it is that is at stake. The wonderful séance at the Bruin - Margot Robbie playing Sharon Tate watching Sharon Tate in Phil Karlson's The Wrecking Crew - is a bold recreation of the myth of the platonic cave. Cinema is the key experience in the process of giving names to the all things in the world. A key experience in the culture of the 20th century. Sharon Tate might be played by another actress in a film that incorporates elements of the deceased actress' real movies, but the real Tate does not naively come to back to life, as in a feverish nerd's dream. Instead, she becomes a completely new part of our lives as cinema viewers in a moment when the role itself and the cultural relevance of cinema is challenged as never before.
Once Upon a Time in Hollywood is a poetic, metaphysic elegy to the Hollywood anthropology and how it has completely reinvented the world. And by reinventing it with his most daring, bold and ultimately touching film, Tarantino creates also his most political work to date.
1 http://thenewbev.com/blog/2019/09/tarantino-on-hollywood/