Simona Fina, Erik Negro
VITALINA NO LABIRINTO DA SODADE
Vitalina Varela is a film of ghosts and shadows, memory and dreamlike visions, wanderings and distant voices. As in the previous Cavalo Dinheiro, darkness is the centre of gravity of a slender and monolithic story, forged by the drifts of the past. Like Ventura also Vitalina moves inside paintings (sometimes baroque, sometimes expressionist) crossed by light, the only life-giving element of a tragic past. Another exploration of solitary and interconnected spaces, as claudicating as the existences of those who inhabit them, yet so resistant. An epic of everyday life, realistic and symbolic - and dazzling and spiritual -, pure in the presences of those who continuously walk through it experiencing oblivion, constantly waiting for revelation (the cinema?). Costa creates timeless figures capable of crossing continents and epochs, condensing presences of history and guardians of another truth. Cinema as a space of vital claim and resistance of identity, material and terribly physical in the depths of shadows that appear as black holes and colours so bright that they seem to be in relief. And right at the end, that darkness that seemed to trap everything, every ray of light in its essence, disappears leaving room for the day. As if it was still possible to look for an innocence or a miracle of the image that can recover a lost time, through the hyper-realism of bodies and places that live the essence of a lost and distant duration. Vitalina remains, with her abstract and inscrutable charm, on her shoulders the weight of what has been, in her eyes the horizon of a future never so uncertain. What we see is only a fragment of the present, torn from abandonment, from the mourning of a (perhaps) not entirely irreversible despair.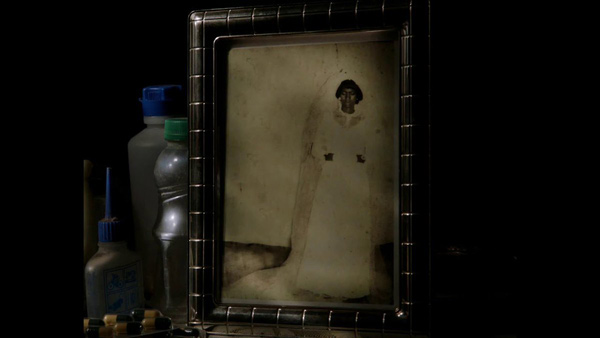 One of the first feelings we had when we saw Vitalina Varela is that your cinema never ends, it is endless. You don't like the word "end", that's why we believe that you have always made the same film. We want to give, from the beginning, a positive connotation to this statement. For us you have remained faithful to your cinema, to your idea of cinema. We see the same modesty in filming, the same cinematic coherence and radicality. Leaving a character in front of a camera, so that he can reflect everything, feelings, tremors, vibrations confirms that for you filming is a very physical act and cinema is a moral issue.
Yes, definitely... from the first minute of my first film. Today, I've certainly gained more experience. Right from the start, I would say from my fourth feature film, I was able to obtain the conditions of production, of practical organisation of my films, as I wanted. My work today is much closer to the production aspects than to the more properly directed ones. I have no hesitation in saying that perhaps, because of the way I set up my work, I am closer to the figure of the producer than the director. This forces me to make an effort, as you say, much more physical, or practical, and less intellectual. I think this is a good thing. I am closer to reality and the production aspects. On the other hand, since 1995/1997, I am very attached to some people, to Cape Verdean emigrants, to the spaces where they lived and that they had to abandon today, to the ghosts of those places, to their new houses. I don't know whether to define this aspect as moral, ethical or... there's a word I like very much: decency, it's like in Italian. Maintaining a certain decency to make decent films in these rather indecent times in which we live. Especially with cinema, where money circulate easily and you can spend without limits. Today I am even more attached to these people and their stories, so it is even more important to behave decently. It is also necessary to have a certain attitude when filming, both when approaching these people and when visiting their places. You can't make fun of them. I make films that are more concrete, practical, close to the ground, to be always up to these people and their stories.